Upcoming Events
---
Visit us at Everything Equine & Canine

April 25 - 27, 2014 at The Champlain Valley Fair Grounds, Essex VT


Established in 2004 this Vermont Equine show has educated equestrians of all levels on the latest innovations in the horse industry. We'll be there all weekend so stop by to meet some of our herd, paint a pony & enjoy our breed presentation.

You could be the grand prize winner of our 2014 amazing raffle!

---
---
Friday, May 2, 2014 1:30 pm - 3:30 pm
Stoweflake Resort

, Stowe, VT

---
Trail Guides Along Our Path to Healing
(Session & Live Demo)
As vibrational beings, horses are tuned
in to the energy we carry through what we're saying, thinking, and doing, and they respond accordingly. Using body-centered techniques, along with hands-on time with the rare Spanish Mustang, we'll explore how horses can help guide us along the path to healing.
---
---
Kids Summer Sessions

6/23-26, 6/30-7/3, 7/21-24 or 8/4-7, 2014

9:00 - 12:00 $200

This program is designed for children ages 7 and older. Students will be introduced to natural horsemanship, a method of interacting with horses from the ground. An emphasis will be placed on learning to communicate with them through body language and techniques that develop trust and respect for each other. In addition to building horsemanship skills, riding is part of each session and new skills are learned for all levels.

Each day begins with helping care for the horses (feeding, cleaning, grooming, etc.), then playing with the horses on the ground using fun obstacles and games. Basic riding skills using creative exercises to build confidence in the saddle will be taught. For those coming to us with prior riding experience, there are many opportunities to enhance their confidence and skills.

A maximum of 8 students will be accepted for each week. One professional instructor and two assistant instructors will guide each group. This high ratio of instructors to student provides a supervised and positive learning environment.

We recognize that children have different learning styles and gain skills at their own speed. We honor each student as an individual. The focus of our program is to develop self-confidence, leadership, team work and communication skills through interaction with our horses.

Please feel free to contact Program Director, Stephanie Lockhart with any specific questions:

Steph@CenterForAmericasFirstHorse.org

or (802) 730-5400.
---
Free Demo Day for Businesses

Wednesday, May 21, 2014

9:00 am - 11:00 am

Are you and your employees tired of the same old classroom training styles where lessons in boredom and short-term results leave you dissatisfied? If so, mark your calendars for Wednesday, May 21 in Johnson, VT from 9-11 when The Center for America's First Horse, together with EQnimity, will be offering a FREE demo day for businesses to experience first-hand how horses can transform your organization.
Following a continental breakfast, you'll have the option to participate in facilitated hands-on horse activities that will showcase the effectiveness of experiential learning. We'll cover how horses can help accelerate and influence long-term changes within your organization – individually and collectively, and where they can also help point out areas of weaknesses.
By working with horses improvement is often seen through:
Improved collaboration and team effectiveness
Better communication skills
Greater employee empowerment, engagement and creativity
Increased Emotional and Social Intelligence, and more
Come taste a sampling of the programs we can design specifically for the needs of your organization.
Limited space is available at the demo (maximum 2/per company including a decision maker).
Reservations required.
---
---
Natural Horsemanship Clinic with Tim Hayes

Saturday, May 31 - Sunday, June 1, 2014 10:00 am - 4:00 pm
---
Open House

Saturday, June 7th

12:00 - 3:00 pm FREE!

---
Schedule a Visit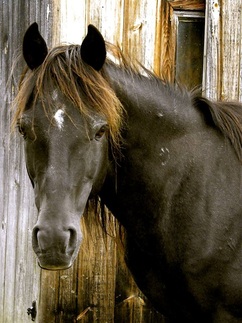 Visit The Center for America's First Horse.
Call (802) 730-5400 to schedule your time with us. We always enjoy introducing the herd to you.

---
---
Payment for all programs must be made in advance. You may pay using PayPal, credit card or check.
Checks should be mailed to:

The Center for America's First Horse, Inc.
PO Box 31
Johnson, VT 05656

For more information, contact Stephanie Lockhart
stephanie@centerforamericasfirsthorse.org
, (802) 730-5400
---
*We are a Vermont non-profit corporation and federal 501(c)(3) non-profit organization.