Upcoming Events
Natural Horsemanship for Children
2017 Summer Sessions

July 24-27, 2017 Full Day 9:00 a.m - 3:30 p.m.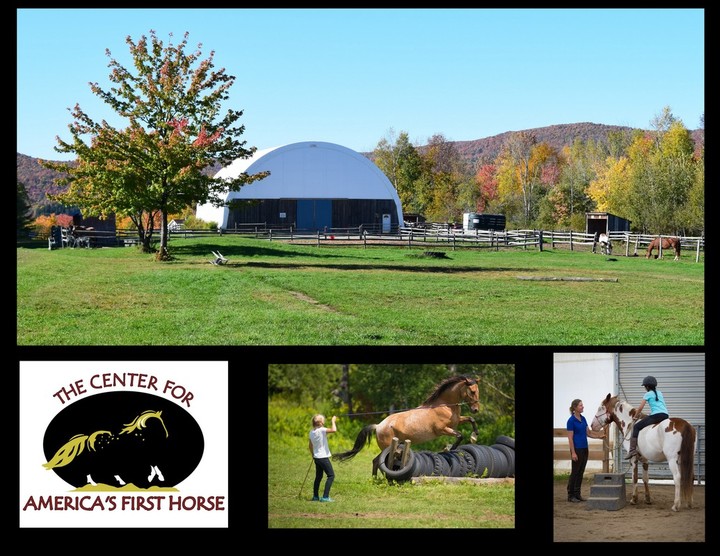 Offering a four day long program for ages 8 and older, our popular day camp introduces children to Natural Horsemanship, a method of working with horses using their natural instincts of body language, energy and herd dynamics. Our unique teaching system emphasizes each student's relationship with his or her horse, based on trust and mutual respect.
Using fun obstacles and games, the students work with their horse from the ground first, learning how to establish boundaries for respect and safety. Developing horsemanship skills from the ground up by learning simple horse psychology, observing the herd in action, and applying themselves as leaders for their horses, children will gain many important life skills as well as riding skills.
Students will ride each day, learning or strengthening basic skills and building confidence. For those coming with prior riding experience, there are many opportunities to enhance their knowledge.
Each day begins and ends with small groups assisting in the care of the horses, further developing team -work, problem solving and communication.
Groups are limited to 8 children per week. One professional instructor and two assistant instructors will provide each group safe and fun horsemanship experiences. The high ratio of instructors to students provides a well supervised and positive learning environment.
We recognize that children have different learning styles and gain skills at their own speed. We honor each student as an individual to meet those learning needs. The focus of our program is to develop self-confidence, leadership, teamwork and communication skills through interaction with our horses.
$380 per week. 50% non refundable deposit reserves your space. Balance is due on or before first day of session.
Registration available through PayPal on our website
www.centerforamericasfirsthorse.org
or by sending a check payable to Center for America's First Horse, PO Box 31, Johnson, VT 05656.
Once registered an email will be sent with an application and pertinent details. For more information, contact Stephanie Lockhart at Steph@CenterForAmericasFirstHorse.org



or call 802-730-5400.
---
PUT YOUR RIDING TO PURPOSE $125
One Day Clinic with Stephanie Lockhart $20 Auditors

Saturday, August 12, 2017 or Saturday, August 3, 2017

10:00 am - 4:00 pm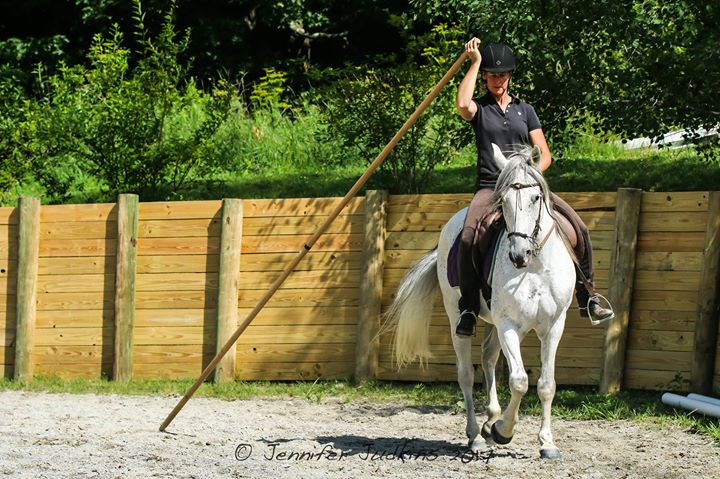 Searching for something to add to what you already know? You and your horse ready for something new?
Tired of going around in endless 20 meter circles?
Join us for a one day clinic offering in-hand ground work, riding, and a course of obstacles to build skills and confidence for both you and your horse, no matter what discipline you prefer.
Morning session:
Learn or enhance your in-hand groundwork with your horse using the concepts needed for riding with more feel and better timing.
Afternoon riding session:
Focuses on exercises to encourage softness, responsiveness, lightness and balance for horse and rider.
THEN...using over twelve obstacles often seen in Working Equitation, you'll put groundwork and/or riding to purpose in The Center's " equine playground".
Riding is optional for those who wish to use the obstacle course to build confidence and communication.
Cost: $125 per participant. Limited to 10.
Auditors welcomed — $20
Potluck lunch at 12:30, please bring a dish to share.
For more information please contact Stephanie Lockhart
802-730-5400 or
steph@CenterForAmericasFirstHorse.org
www.centerforamericasfirsthorse.org
To register, send a check payable to:
Center for America's First Horse
PO Box 31
Johnson, VT 05656
or
Click the PayPal button below ($5.00 service fee if using PayPal. Total of $130.00).
Refunds only if clinic is cancelled or your spot can be filled.
No stallions please. Open to ages 16 and older. Please leave dogs at home.
---
PHOTOGRAPHY WORKSHOP WITH
INTERNATIONALLY RENOWNED EQUINE PHOTOGRAPHER, CAROL WALKER
at The Center For America's First Horse , Johnson, Vermont
October 7 & 8, 2017 $920

Carol Walker,
award-winning equine and wildlife photographer, will be teaching a two day photography workshop at
The Center for America's First Horse in Johnson, Vermont.
The workshop is a unique opportunity for amateur or professional photographers, and artists who want to raise the standards of their photography skills by working with one of the most notable equine photographers worldwide. This is Carol's only east coast workshop of the year. Register now! Limited to 12 participants.
Come to Vermont and photograph the beauty of one of the largest herds of rare Spanish mustangs in the eastern United States during the magnificent fall foliage. The Center for America's First Horse is located on seventy scenic acres with the Green Mountains as a stunning backdrop.
Two days of coaching during morning and evening shooting sessions: Horse portraits, portraits of people with horses, action under saddle, conformation, details, horses moving at liberty, alone and in groups in the pasture. Covering technical details such as camera and lens selection, background, lighting and more.
Two classroom sessions:

Reviews of photos, editing, use of Photoshop, portfolios, selling and marketing, printing.
Free admission to Carol's public presentation about wild horses.

A slide show set to music, and a talk about the issues facing the wild horses of Colorado and Wyoming.
Farewell dinner Sunday evening hosted by The Center for America's First Horse.
Workshop is limited to 12 participants

Fee: $920 – 50% deposit to hold a space. Balance due by September 1, 2017. Ask about an installment payment plan.
A portion of the proceeds will benefit children's equine programs at The Center for America's First Horse.
For workshop schedule, transportation and lodging information, and to register click here
or contact event organizer Stephanie Lockhart at 802-730-5400, or
steph@centerforamericasfirsthorse.org
.
ABOUT CAROL:
Walker has been photographing wildlife for the past 30 years.
In 2000, she started her business, Living Images by Carol Walker, specializing in equine photography. She has traveled throughout the United States and the world including Dubai, France, Spain, Portugal, and Brazil capturing the soul and spirit of the horse and brings to life their stunning beauty, pride, character and essence. She has one of the most extensive libraries in the world of wild horses in the American West. Carol is one of the leading advocates working to save America's wild horses and is the Director of Field Documentation for Wild Horse Freedom Federation.
Her award-winning book

Wild Hoofbeats: America's Vanishing Wild Horses,

released in 2008, is currently in its third printing. Her second book,

Horse Photography: The Dynamic Guide for Horse Lovers

is in its second printing. Carol's third book,

Mustangs: Wild Horses at the Heart of the American Legend

was published in 2014 in France.
To learn more about Carol Walker and her work visit
www.livingimagescjw.com
.
---

---
Payment for all programs must be made in advance. You may pay using PayPal, credit card or check.
Checks should be mailed to:

The Center for America's First Horse, Inc.
PO Box 31
Johnson, VT 05656

For more information, contact Stephanie Lockhart
stephanie@centerforamericasfirsthorse.org
, (802) 730-5400

---
*We are a Vermont non-profit corporation and federal 501(c)(3) non-profit organization.