Upcoming Events
2015 Natural Horsemanship for Children Summer Camp

July 20 - 23


9:00 - 12:00 or 9:00 - 4:00


Our

nationally recognized Natural Horsemanship for Children program

offers four day long camp sessions (no overnight) for ages 7 and older. Children are introduced to Natural Horsemanship, a method of working with horses using their natural instincts of body language, energy and herd dynamics. Our unique teaching system emphasizes each student's relationship with his or her horse, based on trust and mutual respect. Students will ride each day, although the focus of our program is to develop horsemanship skills from the ground up. By learning simple horse psychology, observing the herd in action, and applying themselves as leaders for their horses, children will gain many important life skills as well as riding skills.




Each day starts with small groups assisting in the care of the horses, further developing teamwork, problem solving and communication. Using fun obstacles and games, the students then "play" with their horse from the ground first, learning how to establish boundaries for respect and safety. Basic riding skills using creative exercises to build confidence in the saddle are taught. For those coming with prior riding experience, there are many opportunities to enhance their skills and knowledge.

Groups are limited to 8 children per week. One professional instructor and two assistant instructors will provide each group safe and fun horsemanship experiences. The high ratio of instructors to students provides a well supervised and positive learning environment.



We recognize that children have different learning styles and gain skills at their own speed. We honor each student as an individual to meet those learning needs. The focus of our program is to develop self-confidence, leadership, teamwork and communication skills through interaction with our horses.




Go to our e-store now to register.
---
5th Annual
Natural Horsemanship Clinic with Tim Hayes $300 at The Center For America's First Horse indoor arena register on our e-store



July 18th and 19th
10:00 a.m. - 4:00 p.m.
Tim Hayes, internationally recognized Natural Horsemanship Clinician and author of the sensational new book RIDING HOME-The Power of Horses to Heal (St. Martin's Press) will be conducting a two-day clinic helping riders and horse owners discover how to create physical, mental and emotional harmony with your horse on the ground and under saddle. This is a rain or shine event. Day one will consist of groundwork to establish a healthy relationship with your horse using exercises to build trust and confidence. Day two will cover groundwork and riding for those who choose to ride.
Auditors are also invited to the clinic. Auditing is a beneficial and affordable way to learn more about natural horsemanship and the powerful abilities horses have to help humans. By watching the clinic participants, auditors will gain insight as to how and why "horses have the extraordinary ability to emotionally transform the lives of thousands of men, women and children whether they are horse lovers, or those suffering from deep psychological wounds, " as written in his popular book RIDING HOME. This auditing opportunity is valuable not only for those who work with horses, but for educators, parents, equine therapy providers, social service workers, and mental health professionals.
Fee for two day participation is $300.00. Don't own a horse but want to join in? Experienced teaching horses are available for an additional fee of $25.00 per day. Overnight stabling is available for $20.00 per night. Auditing fee is $20.00 per day or $30.00 for both days. For more information and to register as a participant or auditor contact Stephanie Lockhart, (802) 730-5400, or
steph@centerforamericasfirsthorse.org
. You may also
register at our E-store
.
---
Schedule a Visit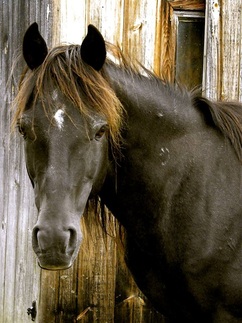 Visit The Center for America's First Horse.
Call (802) 730-5400 to schedule your time with us. We always enjoy introducing the herd to you.

---
---
Payment for all programs must be made in advance. You may pay using PayPal, credit card or check.
Checks should be mailed to:

The Center for America's First Horse, Inc.
PO Box 31
Johnson, VT 05656

For more information, contact Stephanie Lockhart
stephanie@centerforamericasfirsthorse.org
, (802) 730-5400
---
*We are a Vermont non-profit corporation and federal 501(c)(3) non-profit organization.