Upcoming Events
---
Tim Hayes Advanced Natural Horsemanship Clinic
September 19 & 20
Back by popular demand, Tim Hayes will be conducting an advanced horsemanship clinic on September 19th & 20th at The Center for America's First Horse in Johnson, Vermont. It is suggested that participants have participated in a clinic with Tim previously as this is an advanced class. However, if you have not been in a clinic with Tim but would like to attend, please contact Tim directly at tim@hayesisforhorse.com or 917-816-4662.
Day one will consist of continuing groundwork exercises and round pen riding to build confidence and trust with your equine partner. Day two will cover the natural tools and techniques of communication and control for riding in and out of the arena.
Cost for two days is $300. A non-refundable deposit of $200 or full payment is due by September 10th to hold your spot. Any balance will be due on the first day of the clinic.
Stabling is available for $20 per day. Experienced teaching horses are available for use for an additional $50. Auditing fee is $20 per day or $30 for both days.
For more information and to register contact
Stephanie@CenterForAmericasFirstHorse.org
or call 802-730-5400. Checks can be made payable to Center for America's First Horse, PO Box 31, Johnson, VT 05656.
---
Schedule a Visit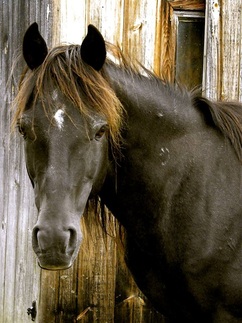 Visit The Center for America's First Horse.
Call (802) 730-5400 to schedule your time with us. We always enjoy introducing the herd to you.

---
---
Payment for all programs must be made in advance. You may pay using PayPal, credit card or check.
Checks should be mailed to:

The Center for America's First Horse, Inc.
PO Box 31
Johnson, VT 05656

For more information, contact Stephanie Lockhart
stephanie@centerforamericasfirsthorse.org
, (802) 730-5400
---
*We are a Vermont non-profit corporation and federal 501(c)(3) non-profit organization.