Help Horses Get A Needed Reliable Water Source!
The Center for America's First Horse, Inc., a 501(c)3 non-profit organization and home to twenty horses is experiencing a critical water system failure!

The current water source and system has once again failed us. Daily, volunteers are hauling about 250 gallons of water for 19 horses from almost 1/4 of a mile away. With winter setting in soon here in the northeast, we must move quickly to raise funds for this project. Our original goal was to raise $10,000 to install a drilled well for dependable year round use.

The local well company did a site visit last week revising the estimate reflecting the actual cost, which adds an additional $5,900 for the project. This includes excavation work to bury and install water lines, power to the well pump, new hydrants and restoring the driveway.

The Center for America's First Horse, Inc., located in Johnson, Vermont is home to eighteen rare Spanish mustangs and the retired equine movie star named Oscar a.k.a Hidalgo. Since 2010 we have provided year round life enriching, and often therapeutic experiences for people of all ages through our hands on natural horsemanship programs.

Our commitment to the mission of The Center, to being a steward of the land, and to the children and adults of the community whose lives are enriched by what we do is as great today as it was five years ago when The Center first opened its doors. We were set on a course to develop The Center into what it has become; a place of learning, peace and sanctuary for both horses and humans.

Without your help getting water for our herd we cannot continue our important work. We're still working diligently exploring every avenue to find and raise funds to get us at least up to 75% of our goal before we can schedule the project to start. We're getting there! If you believe as we do that our dedication to making a positive difference in the lives of horses, children and adults is of great value please consider a donation of any size to help us reach our goal!

Thank you to all who have donated, who have shared and talked with your friends and family about our cause. Please continue to share! The power of social media is amazing. It has brought us so far in such a short time!

With much gratitude and appreciation,

Stephanie Lockhart
Founder, Executive Director

---

---

The Center for America's First Horse, Inc. located on 70 scenic acres in Johnson, Vermont provides life enriching experiences for all ages and experiences. Our rare
Spanish mustang
s
are gifted teachers, helping foster personal growth through natural horsemanship and equine facilitated learning. We have an indoor and outdoor arena, equine training playground and miles of trails to explore. Whether you are new to horses or a seasoned equestrian, The Center welcomes you!
Our
programs
provide hands-on experiences with our many horses in a safe, relaxed and professional learning environment whether on the ground or in the saddle.
We offer year round Natural Horsemanship education, training, boarding, lessons, Natural Horsemanship for Children programs, summer sessions, on and off site natural horsemanship clinics, educational tours, volunteer opportunities, internships and both public and private events.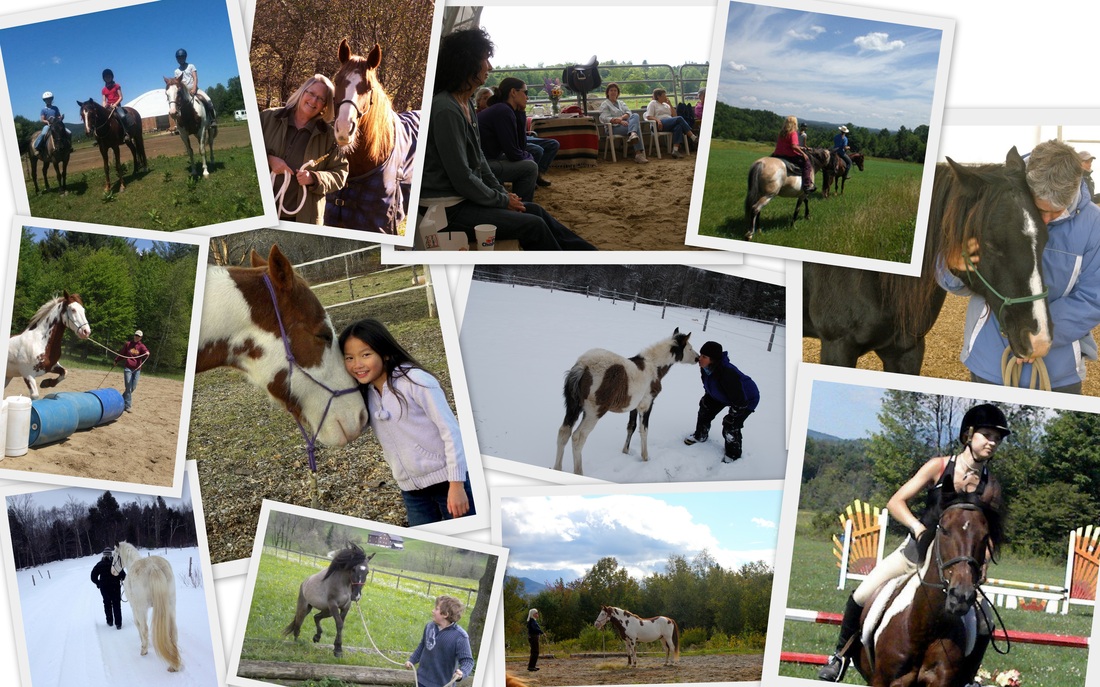 ---

As our organization continues to develop, so do
our needs
. The Center depends on private donations, sponsorship, grants, fund raising and revenue from programs to be self sufficient.
How you can help.
---
*We are a Vermont non-profit corporation and federal 501(c)(3) non-profit organization.